WE OFFER
INSTALLATIONS
• Residential & Commercial
• Renovations & Additions
• New Construction
• Interior Lighting
• Exterior Lighting
• Landscape Lighting
• Switching Systems
• Lighting Controls
• Generators
• Service Upgrades
• Pool & Spa Wiring
• Phone/Data/Cable Wiring
SUPPORT
• Emergency Service
• Lighting Design & Planning
• Troubleshooting
• Repairs & Maintenance
• Green Solutions
OUR HISTORY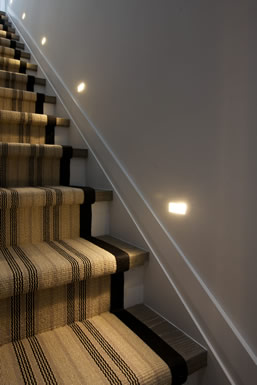 A family business established in 1982, Quinlan Electric of Hampton Bays serves the Hamptons, North Fork and beyond. Our deep experience in the local electrical trade paired with unsurpassed expertise in the latest technologies allows us to deliver appropriate and effective solutions to every modern or traditional challenge.
The role of an electrician on the east end has changed dramatically over the years and staying current with technical advances has assured our position with homeowners, designers, architects and builders who require a source that provides excellence in the field. It's not just switches & outlets any longer; custom fixtures, networked interfaces and complex mechanical rooms are among some of the challenges that we welcome.
We are even proud of the work that is never seen. We take pride in being clean, organized and design oriented even behind the walls. We stand behind our work and are always available for troubleshooting, repairs or upgrades to your existing installations.
No job is too large or small. We look forward to simple and practical installations as well as finding the simple answers to the complex ones. Residential or commercial, just give us a call!
INFORMATION
OFFICE | MAP
Quinlan Electric Inc.
9 Allomara Road
Hampton Bays, NY 11946
MAILING ADDRESS
Quinlan Electric Inc.
PO Box 1034
Hampton Bays, NY 11946
P 631-728-2553
F 631-728-2642
E
EMERGENCIES
631-445-3427